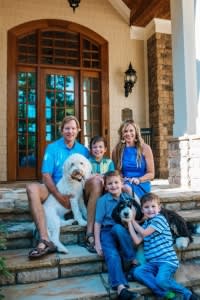 At first, when we heard about COVID 19, it was frightening and we had no idea what the virus would have in store for our family, our community, our country, and our world. I could never have imagined that the schools would be shut down, businesses would be forced to close their doors and we would have to shelter in place for those many long days.
My husband Larry was given an executive buy-out from his company in January. He had been interviewing with several new companies for a new role, but everything stopped on that front in mid-March when the virus hit the US. Looking back, we were so lucky to have the two of us home and available to help homeschool our 3 boys. It was not an easy time for us because of their ages and the amount of time that we needed to spend with each to make sure that they were getting their work done.
Our "normal" schedule was completely turned upside down. We slept in, stayed up late doing family movie nights, played outside, and enjoyed being able to spend time out on the water. Since we live in Reynolds Lake Oconee we were able to get out of the house by golfing, riding bikes, rollerblading, jet skiing, and taking boat rides. This time that we all spent together making memories is something I will always cherish. My boys are growing up so fast and for this brief moment in our lives, time moved at such an easy pace so we could take it all in. We consider ourselves very lucky to have been able to be so active outdoors during the quarantine.
As we continue to work through COVID 19 and the effects of the pandemic, I hope that you and your Quarantine Crew are doing well and taking care of each other!