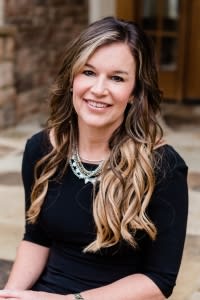 Luxury Lake Oconee is excited to announce the addition of our newest team member, Jennifer Vaughan. Jennifer and her husband, Larry, have been residents of Reynolds Lake Oconee since 2010 with their three boys, Matthew (11), Jordan (9), and Brandon (6). Jennifer is a graduate of the University of Michigan with a degree in Language Arts. Vaughan began her successful sales career in the information technology industry with software company Novell and progressed to Motorola and Symbol Technologies. In 2006, Jennifer married Larry, and they began construction of their home at Lake Oconee.
Jennifer is actively involved in the community. The Vaughan family is a proud member of Lake Oconee Church. Larry and Jennifer are strong supporters of St. Mary's Good Samaritan Hospital and Lake Oconee Academy. Jennifer serves as a Board Member of the Lake Oconee Academy Foundation. Jennifer has been involved in numerous fundraiser activities for the school including the Denim& Diamonds Committee, the LOA Capital Campaign Committee, and Chairperson for the Tees for Titans Golf Tournament, a role she has held since 2015.
"Riezl and I have been friends with Jennifer and Larry for over ten years. After working with Jennifer on community projects over the years, I can tell you that Jennifer is a consummate professional. She has a strong work ethic and understands the value of hard work." stated Ted Baker, managing broker of Luxury Lake Oconee. "The advantage I had while in sales was that I spent lots of time with the engineers learning everything I could about the products prior to taking them to market," Jennifer explains. She looks forward to applying the same principles in her role as a Realtor® by learning the inventory, understanding the goals of her clients, and delivering superb service.
In recent years, we have welcomed a new generation of families who gave up the urban hustle for a better quality of life. Jennifer is well poised to welcome these families to Lake Oconee. Jennifer enjoys exercise, boating, and golfing at Reynolds Lake Oconee or Cuscowilla, where she and her family are members. "We are fortunate to live on the lake, a stone's throw away from the Ritz and major amenities. I pinch myself sometimes and remind my boys to be grateful. I am looking forward to introducing the community and our wonderful lifestyle to others," said Jennifer. Luxury Lake Oconee Real Estate is a full-service brokerage with over 40 years of combined experience serving buyers and sellers in Lake Oconee real estate.
For more information, call Ted Baker (706) 347-2625.