The Fourth of July boasts many traditions across the country. Whether it's a backyard grill out with family and friends or packing a cooler, blanket, and lawn chairs to see the community fireworks, everyone has their own way of celebrating. Here at Lake Oconee, members and their guests in Reynolds extend the holiday to span the entire weekend with plenty of activities and events that take place across the property.
The Lake Club

About 2,000 members and guests at Reynolds Lake Oconee kick off the holiday by hanging out at the Lake Club pool and Infinity Bar. Live music and drinks entertain adults while the waterslide and pools entertain kids. While Kathy's Cafe is a great option for lunch, the cookouts are worth trying. Up by the cafe, a tent with burgers, hot dogs, chicken fingers and fries allows for quick access to food. Down by the adult pool members can find grilled chicken, pulled pork and mahi sandwiches which are special items only offered during the holiday. A tip for the Fourth weekend at the Lake Club— get there early, it fills up fast.
Lake Oconee

Each year during the Fourth, the lake fills with boats. Anywhere you go on the lake you'll see members tubing, wakeboarding, kayaking, paddle boarding, and much more. The sand bar and Jumping Rock are two very popular locations on the lake. At the sand bar, you'll find boats packed in with everyone kicking back and enjoying the lake. It's conveniently located near the Lake Club if a pit stop is needed. The Jumping Rock is perfect for anyone looking for a little adventure. The 10-foot-high rock doesn't seem daunting until you get to the top, but once you jump into the water, you won't regret it.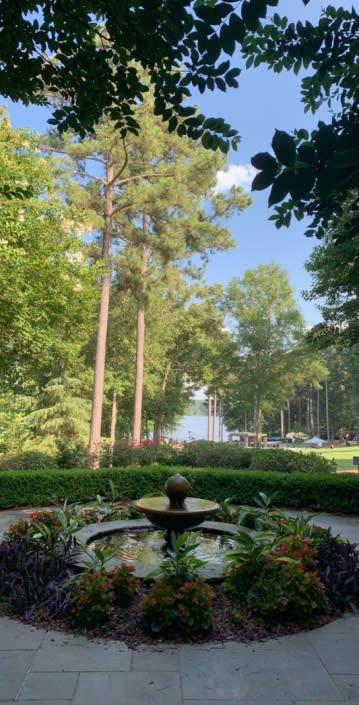 Fireworks
There are options for the fireworks display on Lake Oconee as both Reynolds and the Ritz-Carlton have an event.
At Reynolds, the fireworks display has most recently taken place at the Landing while Great Waters was under renovation. Members and guests enjoy family-friendly live music and a cookout with all the classic Fourth of July fixings. There are also plenty of activities to keep kids busy including an inflatable slide and a bounce house. Once the sun goes down, an amazing 30-minute firework display beings.
At the Ritz-Carlton, the Summer Series continues with another live band. Guests enjoy the music and drinks out back while overlooking the lake. The firepit is always lit and anyone is welcome to make a s'more. Families and friends can challenge each other to a game of table tennis or cornhole in the recreation area. The firework display begins once it gets dark.